Printer-friendly version
Academic Papers
The present paper carries out a meta-study regarding security and defence foresight documents by the Atlantic Alliance, European Union and various official bodies linked to the Defence Ministries of Canada, France, Germany, Italy, Spain, the United Kingdom and United States. 
It focuses on the political and social trends impacting on defence and military issues. In global terms, the following can be discerned: rivalry among major powers, with armed conflict between some not ruled out entirely; armed non-state actors strengthened by new technologies; global competition for natural resources; extensive demographic imbalances and migration flows; global risks associated with fragile states. In terms of European internal policy, the following trends are identified: population ageing and the challenges associated with immigrant integration; empowerment of interest-based and identity networks. The paper begins by familiarising readers with the characteristics of foresight documents and the methodologies used in their preparation.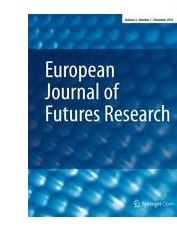 Download full article.
To cite this article: Javier Jordan, "Political and social trends in the future of global security. A meta-study on official perspectives in Europe and North America", European Journal of Futures Research (2017) 5:11.